Crow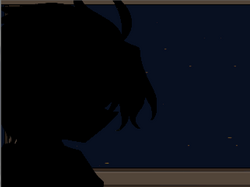 Character Information
Biological Information
Professional Status
Personal Status
"Crow" is an unseen character that appears to Kcalb in a dream-like place in one of the bonus episodes in The Gray Garden. The true identity of this character has yet to be revealed.
Appearance
They only appear as a silhouette with rather messy hair.
Personality
Not much is known about them.
Background
Crow seems to have some relation to Kcalb despite not knowing his name. Not much else is known about them.
Appearances
Cameo
Relationships
It is unknown what type of relationship both have. Crow seems to know Kcalb.
Trivia
They gave themselves the name "Crow."
Gallery
Quotes
"But, ever since that day... my once-lonely life has changed so much."
References
http://surreelistic.tumblr.com/post/98485330080/deep-sea-prisoner-character-infodump
Ad blocker interference detected!
Wikia is a free-to-use site that makes money from advertising. We have a modified experience for viewers using ad blockers

Wikia is not accessible if you've made further modifications. Remove the custom ad blocker rule(s) and the page will load as expected.