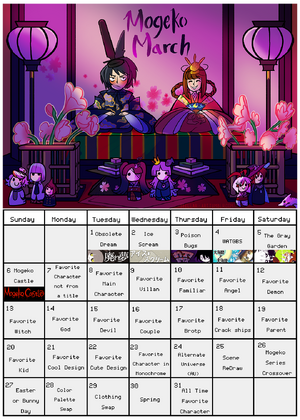 Announcement!
March has arrived on our calendars. If you're a true Mogeko fan, you know what that means...
That's right! It's Mogeko March 2016!
Hold on to your art materials! This year we now have a brand new calendar! New calendar means 31 new challenges of everything Mogeko!
More info about the event can be found on the official Mogeko March site! Credits to them for the official calendar for Mogeko March 2016. I do not own the image.
Planning to display your MM art in the wiki? No problem! Upload and showcase them in your profile pages! Adding a Mogeko March 2016 section in your profiles is optional. But please, don't forget that fanart shouldn't be added onto the character profiles. So refrain from doing that.
Disclaimer: I don't run the blog nor affiliated with it. I just wanted to spread the word out so that more fans can join in. :P
(also i ain't an artist so it sucks balls not to participate in the fun.) ;_;
Anyways, have fun celebrating Mogeko March! This is Jethro, signing out!


Two walking Met gifs?!?!

      ('sup? | look at 'em plz | history)
      14:24, February 29, 2016 (UTC)
Ad blocker interference detected!
Wikia is a free-to-use site that makes money from advertising. We have a modified experience for viewers using ad blockers

Wikia is not accessible if you've made further modifications. Remove the custom ad blocker rule(s) and the page will load as expected.