Hello once again!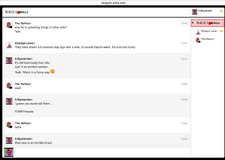 March 7, 2016 was the first ever chat session in the Okegom Wiki. I, along with two other users were part of it. And come to think of it... There may be even more users in the chat in the future. And I'm like... hey! Why not create chat guidelines?
So yeah without further delay, here's our chat guidelines:
Chat Guidelines
Most of the guidelines from our social guidelines apply including:

Our general rule
Comments (in this case, replies)
Birthday greetings
Swearing limits
Discussions
Mogeko haters

When someone joins in the chat, say hi!

Alternatively, if you have joined in the chat and no one notices, say hi to them!

As much as possible, don't start unnecessary arguments. We like to have fun here folks!
Don't spam in the chat. Replying with the following is considered spamming:

Random string of characters ('.PQLK8WV56CMR,4[.3/)
Huge ASCII art (Single-line ASCII like ( ͡° ͜ʖ ͡°) is fine, but having huge ASCII is spam.)
EXCESSIVE ALL CAPS. A FEW ALL-CAPS WORDS ARE FINE, BUT CAPITALIZING THE ENTIRE SENTENCE LIKE THIS IS UNACCEPTABLE. Users may depict that you're "aggressive".

Strike up a conversation with a topic! Is there something about Mogeko? Something awesome happened to you? Joking about Idate having 1,000,000 cigarette packets? Start a topic! This will maintain the chat's momentum.
Need to chat but there's no one active? Try to wait a little longer or just check back later! Initially starting a chat with you as the only member in it will have a better chance of attracting users to chat!
If any actions are done by the Chat Moderators, respect it unless if it's not the right thing to do. Although this will very rarely happen since they are trusted users.

Chat Mods are denoted with a star next to their usernames in the chat. Note that Admins and Discussion Mods are also Chat Mods.

And the most important guideline of all:

Have fun! We want to make the chat the greatest possible way to interact and possibly befriend with users!
Welp... That's all I have for now. As always, thank you for reading my blog post! Until next time!
Read More Posts of Mine!
Ad blocker interference detected!
Wikia is a free-to-use site that makes money from advertising. We have a modified experience for viewers using ad blockers

Wikia is not accessible if you've made further modifications. Remove the custom ad blocker rule(s) and the page will load as expected.