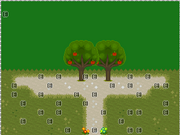 So i was looking at the map of the gray garden, and the apple park looks like letters. After a bit of searching i came with incoherent translations like male wife ,insects, mourning distance, and names like Masayoshi Mugi, Masashigei, Masugi Isao. Do they really say something!?. or im just absurdly overspeculating
Ad blocker interference detected!
Wikia is a free-to-use site that makes money from advertising. We have a modified experience for viewers using ad blockers

Wikia is not accessible if you've made further modifications. Remove the custom ad blocker rule(s) and the page will load as expected.