Yosafire




Character Information
Japanese Name

ヨザファイア

Romaji Name

Yozafaia

Character Code

0138

Location

Gray Garden

Status

Active

Biological Information
Species

Demon

Gender

Female

Height

155cm (≈5'0-5'1")

Professional Status
Affiliation

Gray Garden

Occupation

Student

Personal Status
Relatives

Yosaflame

(Ancestor)
Education

Gray Village School
Yosafire (ヨザファイア) is a demon of the Gray Garden. She serves as the main protagonist of The Gray Garden.
Appearance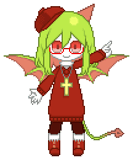 Yosafire has short, two-toned green and pink hair (With the pink being the inner part); a pink horn; eyes with red irises; a pair of green wings with pink membranes; and a heart-shaped, green tail that fades to a pink color. She sports a red beret to cover her broken horn; red glasses; a yellow cross necklace; an oversized red sweater over a white turtleneck; dark red stockings; and red knee-high boots with a fur trim.
Personality
Fervent, lively, impulsive, and only slightly irresponsible makes Yosafire headstrong and tends to give her an impression of being stubborn, exhibited in the fact that she is always the first to act and the last to give in despite all odds against her. Her ability to place her trust even in people she's only just met is one of her admirable qualities that also makes her an affable character.
Overall, Yosafire is an earnest, often intent individual who, despite her erroneous view of the Worlds, is very adaptable to new situations and places, and is quick to find solutions to problems that are presented to her. However, it could be said that Yosafire is, surprisingly, just as quick to realize her mistaken understanding of the Worlds' ways, but still holds strong on her opinion that everyone should not be chained to casteism.
While filled with indignation toward those who mistreat her and her friends, she never seems to express any true resentment; in fact, the only time she has ever been shown outraged is when she denounces Ivlis for harming Kcalb and badmouthing him. But surprisingly enough, Yosafire is quite against the idea of needless violence, and would rather steer clear from a situation requiring it.
She is loyal to those she cares about, and will strive in keeping them happy and in high morale, especially in the most dire situations. The best example is in her relationship with Kcalb, where, despite knowing of his past deeds, is still very much willing to accept him as he is and with no changes in her love and care for him.
Yosafire also has a tendency to use childish insults, sometimes even vulgar ones.
Background
Yosafire is a demon hailing from the Gray Garden who lives by herself in the Gray Village. When she was younger, she had an accident while flying, which resulted in a broken horn, and since then acquired a fear of both flying and heights, though is later shown to conquer her fear in the game when saving Froze. She is a student enrolling in the Gray Village school.
Appearances
Major
Cameo
Relationships
Froze is Yosafire's best friend. The two are very close, and Yosafire even admits to wanting Froze to be her girlfriend. Based on some artworks by Deep-Sea Prisoner, this feeling may very well be mutual. They are both very good friends who often look out for each other, both willing to step out of their comfort zones in order to help the other.
Macarona is one of Yosafire's close friends.
Rawberry is one of Yosafire's close friends. She shares Yosafire's cheery attitude, and often make jokes together, as seen when they insult Emalf in turns.
Dialo is one of Yosafire's close friends. Yosafire greatly enjoys Dialo's apple pies to disgustingly gluttonous proportions. Though disgusted by the sheer amount of pie her friend can eat, Dialo bakes them regardless, displaying no sense of overly dismay over the absurd amount of apples Yosafire brings in during the events of The Gray Garden" should the player take more than five apples from the apple park.
Chelan is one of Yosafire's close friends.
Etihw is the God of the World where Yosafire lives; they seem to be close with each other.
Kcalb is Yosafire's Devil. Kcalb seems to be close with her compared to other villagers. The two might have a special respect for each other, which stems from the fact that Yosaflame, Yosafire's ancestor, was Kcalb's former underling. Yosafire is prone to teasing and pranking him, the Devil in turn often irritated and flustered by her mischief. But despite that, he openly accepts and enjoys Yosafire's company.
After falling off a cliff, having been dealt great wounds by Ivlis, Yosafire saves Kcalb. Though he attempts to convince her that he has no right to live due to his past deeds, Yosafire chooses to ignore his pleas, telling him that it doesn't matter to her what he did in the past.
Lowrie is one of Yosafire's teachers; they seem to be on good terms.
Greif is one of Yosafire's teachers. Though she is often irked with Yosafire for almost always forgetting her homework, the two are not on bad terms.
Grora seems to be one of Yosafire's friends.
Wodahs seems to be one of Yosafire's friends.
Emalf is one of Yosafire's enemies. She hates his guts and insults him on sight. Her nicknames for him are "Shades McGee" and "Pervy McShades", on account of his creepy flirting and penchant for wearing shades.
Yosafire and Yosaflame possess an uncanny resemblance to each other. It has been said that the two are related, although in what manner remains to be seen. It has been heavily implied that Yosaflame is Yosafire's ancestor during the war.
Ivlis is an otherworldly attacker. Out of everyone, she seems to hate him the most; rightfully so for attacking both her World and Kcalb, with the latter to near death.
Battle Statistics
Statistics and Skills of Yosafire in The Gray Garden
Basic Information
Name
Species
Yosafire
Demon
Default weapon
Signature skill
Cross Sword
Final Yosa-Fire
Due to her high AGI stat, Yosafire will almost always perform her action first during the battle phase. The player can use this strategically to support other party members with healing, buffing, and reviving items.
Statistics
All stats assume no weapon, shield, armor, helmet, or accessory equipped; or no usage of stat items to increase them.
Starting stats at Level 1
Minimum stats at Level 50

| | | |
| --- | --- | --- |
| HP | MP | Attack |
| 48 | 34 | 14 |
| Defense | Spirit | Agility |
| 12 | 18 | 26 |

| | | |
| --- | --- | --- |
| HP | MP | Attack |
| 644 | 454 | 147 |
| Defense | Spirit | Agility |
| 102 | 284 | 487 |

Percentage chance of landing a critical hit
1/30 (~3.33%)
Skills
Yosafire has 10 skills.
While the level cap is at Level 50, all skills can be learned at Level 30.

Skill
Description
Level required
Yosafire Punch
Punch a foe in the gut. Hits one enemy.
MP cost: 5 · Target: One enemy
Effects: None
3
Yosa-Fire
Yosafire breathes fire. Hits one enemy.
MP cost: 6 · Target: One enemy
Effects: None
6
Wink
Confuses the foe with a charming wink.
MP cost: 5 · Target: One enemy (no damage)
Effects: Inflicts Confusion condition.
9
Insight
Does the glasses thing. Hits one enemy.
MP cost: 6 · Target: One enemy
Effects: None
12
Yosa-Fire II
Yosafire breathes strong fire. Hits one enemy.
MP cost: 12 · Target: One enemy
Effects: None
15
Feint Attack
Pulls a feint and hits one enemy.
MP cost: 9 · Target: One enemy
Effects: None
18
Heyo!
With a mighty yell. Hits one enemy.
MP cost: 11 · Target: One enemy
Effects: None
21
Yosa-Fire III
Yosafire breathes hella fire. Hits all enemies.
MP cost: 16 · Target: All enemies
Effects: None
24
Glasses Beam
Fire lasers from glasses. Hits one enemy.
MP cost: 15 · Target: One enemy
Effects: None
27
Final Yosa-Fire
Yosafire's final attack. Hits all enemies.
MP cost: 20 · Target: All enemies
Effects: None
30

XP Curve
In total, 631358 XP must be gained in order to reach Level 50 as Yosafire.

Level
XP to next Level
Level
XP to next Level
Level
XP to next Level
1
33
18
1873
35
11507
2
58
19
2074
36
12999
3
96
20
2299
37
14724
4
147
21
2542
38
16726
5
209
22
2820
39
19039
6
285
23
3113
40
21761
7
372
24
3452
41
24933
8
466
25
3814
42
28679
9
571
26
4235
43
33099
10
682
27
4698
44
38340
11
798
28
5222
45
44598
12
926
29
5814
46
52085
13
1058
30
6481
47
61089
14
1200
31
7239
48
71993
15
1348
32
8107
49
85252
16
1511
33
9085
50
∞
17
1686
34
10219
Gallery
Trivia
Quotes
References